May 1st - June 5th, 2021
AND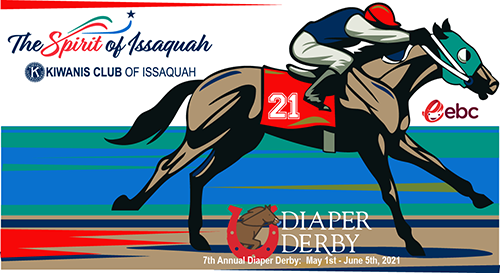 The Kiwanis Club of Issaquah is watching from the starting gates & readying our horse to run!
Follow our horse "The Spirit of Issaquah" on our Facebook and website www.issaquahkiwanis.org to see our current results. Starting May 1st you can make your donation to Eastside Baby Corner for the purchase of diapers for kids in need. All cash and online donations must be received by 5pm. Each Friday during the competition will count toward that week's points.
For more information and to purchase your diaper donation go to: https://babycorner.org/diaper-derby/
Make sure you name "Kiwanis Club of Issaquah" in the Campaign Code Box
at check out to give our team support for your donation!
Last Year's Winner's
Kentucky Derby and Triple Crown Winner: SAP Concur
Belmont Stakes Winner: STRENGTH Studio
Preakness Winner: The Kiwanis Club of Issaquah
The 2020 Diaper Derby brought in almost 85,000 diapers and 75,000 baby wipes
for children and families struggling with diaper need in our community.
THANK YOU for your support!