Our historic clubhouse is available for rent. It is located just across Newport Way SW from the Issaquah Salmon Hatchery. Parking is available directly in front of the building (along both sides of Newport) and on the north side of the building.
The address for Gibson Hall is 105 Newport Way SW; Issaquah, WA 98027.
Gibson Hall (900 sq ft) seats 70 people, tables and chairs are provided. It features full kitchen facilities (completely remodeled in 2007), restrooms, and a gas fireplace. Broadband Internet access is provided via 802.11b/g Wireless and 100BASE-T Ethernet LAN.
Entrance from Newport Way SW
Gibson Hall Banquet
Gibson Hall fireplace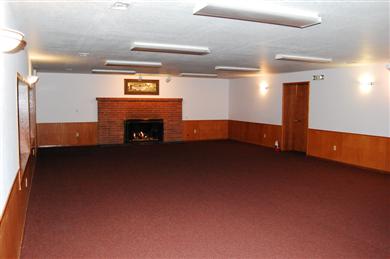 Empty main room showing fireplace
Newly remodeled kitchen


Photos Courtesy of David Bangs, © 2007