The Kiwanis Club of Issaquah, has been serving our community since 1929. As a group, we can achieve what individuals cannot do alone. To learn more, join us for a fun and informative meeting any Wednesday at noon! KIWANIS- Let us make noise and have fun serving, "ONE CAN MAKE A DIFFERENCE one child and one community at a time. "Enjoy your service" to the community!
Kiwanis Serving the Children of the World!
---
It's Kiwanis Salmon BBQ Time…….VIRTUALLY!!!!!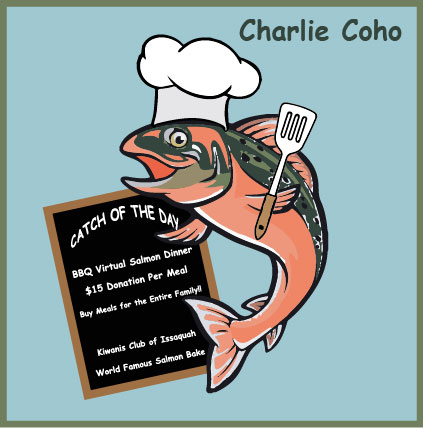 For the past 50 years, the Kiwanis Club of Issaquah has held its annual major fundraising event during the Issaquah Salmon Days Festival on the first weekend of October of each year. You might remember seeing the smoke rising in the air during Salmon Days from our large BBQ pit as we cooked the delicious salmon filets over an alderwood fire pit.
Kiwanis Club of Issaquah is not going to let COVID-19 get us down. We are continuing the tradition with a Virtual Salmon Bake during the month of October. While you won't be able to taste that delicious Salmon filet with our famous "Secret Sauce" on it, you will know that the salmon meal you purchased virtually will be doing wonderful things to help feed, clothe & nurture kids & families in our community. They need our help more than ever while in the midst of this crisis.
We are all in this together – so, let the Kiwanis Club of Issaquah enjoy serving you a VIRTUAL Salmon BBQ Dinner or two or three or more! Cost per meal is just $15.00! To make your donation for the virtual Salmon BBQ dinners click on Charlie Coho below.
We thank you for your support & look forward to serving you our
World Famous Kiwanis BBQ Salmon Dinner in 2021!


We also would like to give our sincere gratitude to
our event sponsor Rowley Properties of Issaquah
---
All profits from the store will be used to support the mission of Kiwanis,
"Serving the children of the world, one community and one child at a time."

Click here for ALL Year Candy

or
Click here for Xmas Candy
to be sent after Nov. 7th
---
Valued Community Business that Support Flags on Front Street & Sunset
"Support Local, Shop Local"
We would like to thank our current sponsors of Flags on Front Street & Sunset.
Without support from community minded people and business, we could not make it possible.
Connie Fletcher
Debbie Berto
Joan Probala
Mayor Fred Butler
Ruben Nieto
Tina Butt Blondino
Help Support Flags on Front Street with your donation today!
All monies received are put back into the community and will benefit our youth!
Eleven times a year the Kiwanis Club of Issaquah raise & lower the Red, White & Blue in alliance with local businesses.
Businesses contribute $75 a year to the program. All monies are donated to local youth programs. With economic hardships
caused by Covid-19, the Kiwanis Club is starting a fund to reduce the costs to expand the flags.